Sustainability is more than just a buzzword at Southern Oregon University (SOU). It's right in their mission statement and is part of the strategic direction for the campus in the SOU Plan. SOU's commitment to sustainability can be seen throughout the campus through its red, black, and blue recycle bins, highly visible solar installations, energy efficiency improvements, green student clubs, sustainability degree programs, and the Farm at SOU.
Empowering Southern Oregon University
SOU has a long-term relationship with solar on their campus. In 2000, their first installation was part of the City of Ashland's Solar Pioneer I program. A combined 30 kilowatts (kW) was installed on the Oregon Shakespeare Festival Administrative Building, SOU's Hannon Library and the City of Ashland Civic Center. This project was designed to educate the Ashland community about solar technology. Today, SOU has nine solar facilities on its Ashland campus, generating over 340,000 kilowatt hours (kWh) annually! Three buildings on campus currently fall under the "net-zero" category, meaning they create more energy than they use in a year. These buildings are the Athletics Storage at Raider Stadium, the Farm's Storage Barn, and the Outdoor Program Equipment Storage Building.
SOU's Current Solar Installations
SOU Hannon Library, 68 kW
Higher Education Center, 56 kW
Stevenson Union, 32 kW
McLoughlin Hall, 73 kW
Shasta Hall, 82 kW
Lithia Pavilion, 63 kW
Outdoor Program Storage Building, 24 kW (Net Zero)
Athletic Storage Facility, 49 kW (Net Zero)
The SOU Farm Storage Barn, 14 kW (Net Zero)
True South Solar is proud to assist SOU with two new commercial solar installations on Lithia Motors Pavilion and the Hawk Dining Commons in 2024. This will significantly increase SOU's solar infrastructure from 455 kilowatts to 848 kilowatts! An additional 241.5 kW will be installed on the Student Recreation Center, and 151.5 kW will be installed on the SOU Hawk Dining facility, including a microgrid storage component. Funding for the project comes from various sources, including the Oregon Department of Energy's Community Renewable Energy Grant Program, appropriations from Congress, and the SOU Green Fund.
SOU's Commitment to Sustainability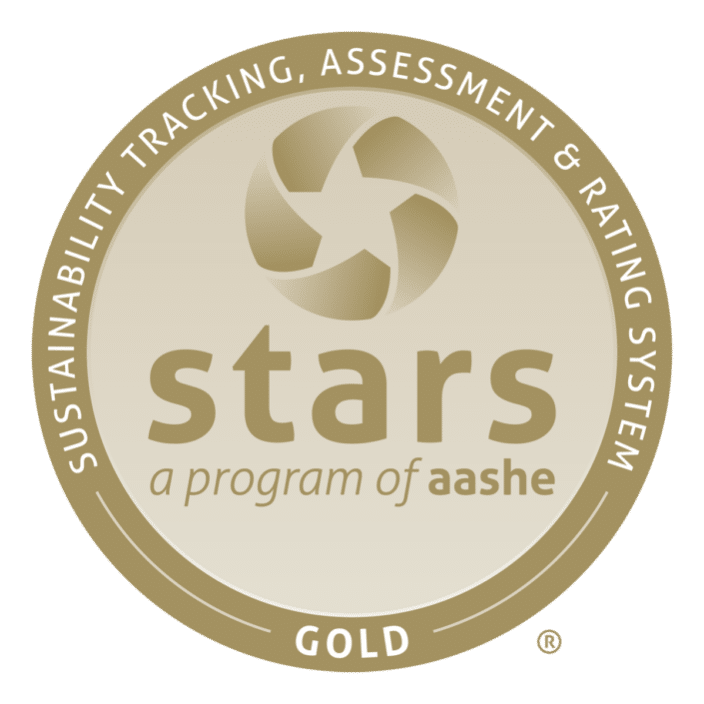 Sustainability is more than just renewable energy production. The United Nations defines sustainability as "meeting the needs of the present without compromising the ability of future generations to meet their own needs." SOU's commitment can be seen in its electricity goals and transitioning to an electric campus fleet, reducing campus emissions, reducing waste, improving energy efficiency, and moving away from natural gas.
SOU has a proven track record of success. They achieved a Gold STARS rating in 2022 for their sustainability efforts from AASHE (Advancement of Sustainability in Higher Education). STARS (The Sustainability Tracking and Assessment and Rating System) is a transparent, self-reporting framework for colleges and universities to measure sustainability performance.
The Farm at SOU
The Farm at SOU is a living-learning laboratory on campus designed as a sustainability center across from Trails Elementary and Ashland Middle School on Walker Street. Schools throughout the region have utilized this educational resource. It's a tool for research, education, and vital food resources for our community and is home to the Thalden Pavilion. Projects include GIS (Geographic Information System) mapping, wetland restoration, vineyards, native plant species, bees, and food forests, to name a few.
The Farm has a Community Supported Agriculture (CSA) program, allowing students, faculty, staff, and community members to subscribe to the harvest. CSA members can even enjoy "you-pick" days for strawberries, blackberries, and even pumpkins for Halloween! There is also a farm stand throughout the growing season.
The SOU Farm provides produce to the dining services on campus through their catering services and at the Hawk, the on-campus dining. The SOU Farm also has a 15 kW solar array installed by True South Solar in 2021 and multiple solar arrays on adjacent land owned by SOU.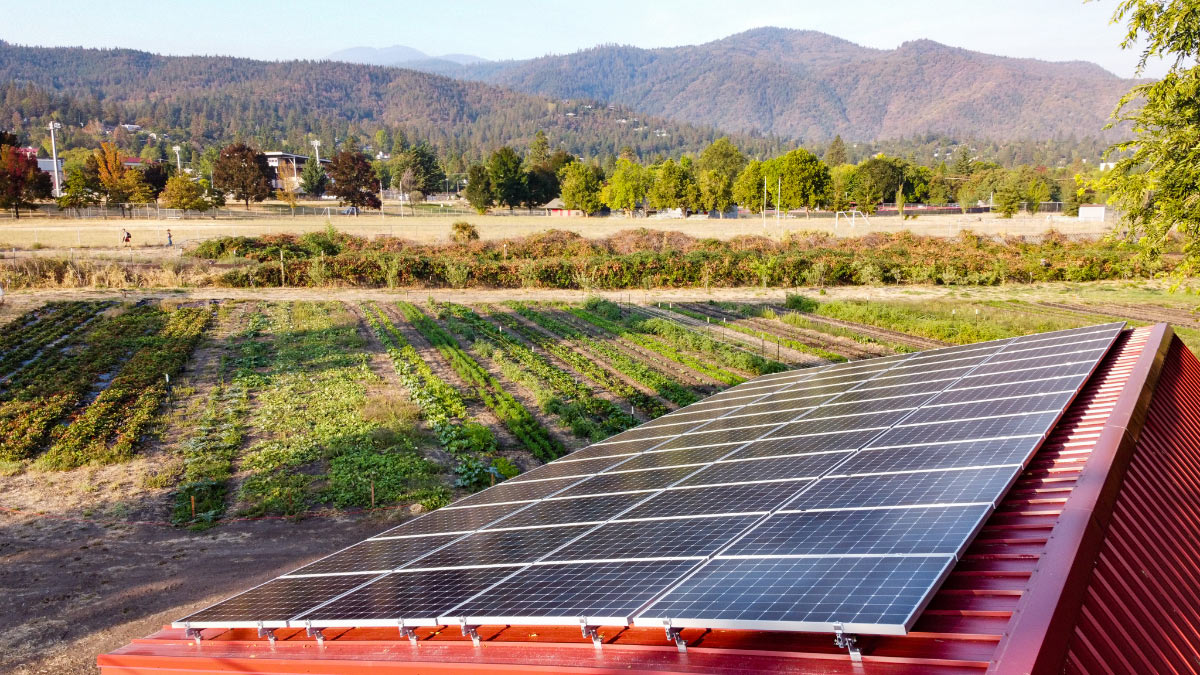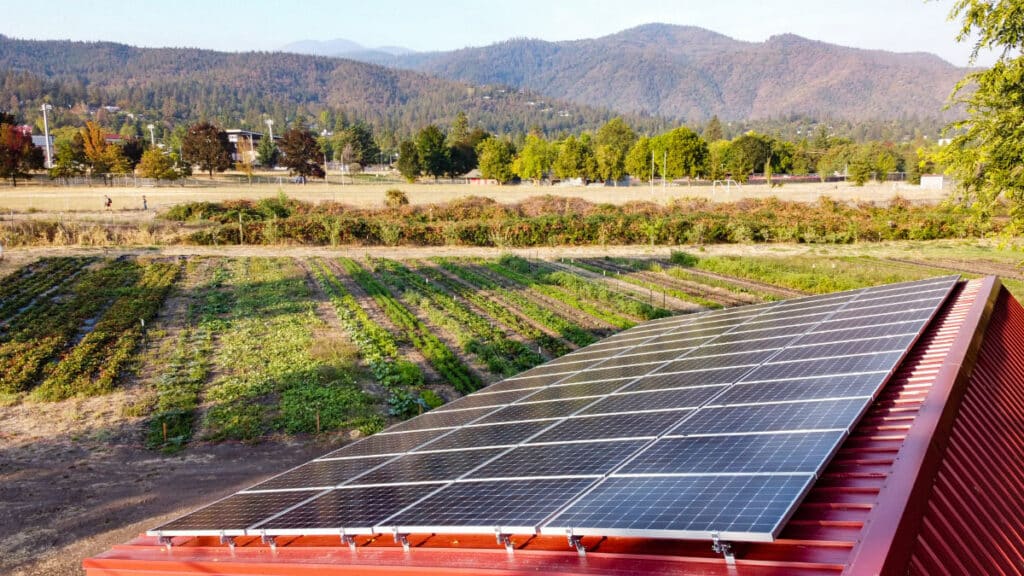 The Future of Solar at SOU
SOU has an ambitious goal to not only become the first public liberal arts university to get 100% of its electricity from renewable energy but also to be an energy producer for the community. This will require solar on rooftops, in parking lots, and land throughout the campus. The campus is leveraging federal and state dollars alongside their student-created SOU green fund.
Storage is beginning to play a considerable role in advancing solar and clean energy on campus. As solar capacity increases, storage will create more opportunities for resiliency. Access to power in emergencies will become more critical as utility companies require power shutdowns for communities in crisis.