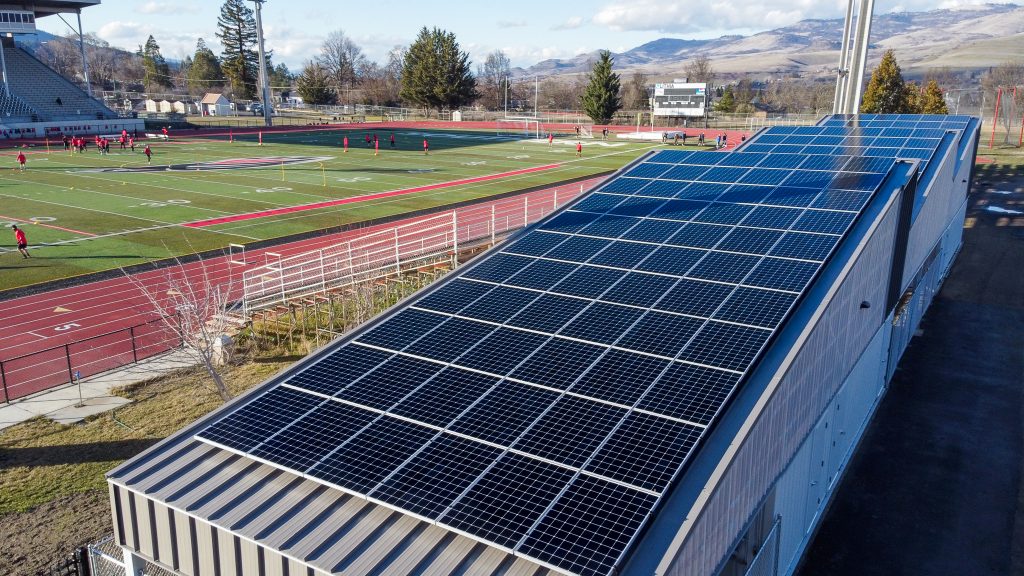 Southern Oregon university's sustainability program
The need for athletic storage has been an excellent opportunity for Southern Oregon University in Ashland to demonstrate how it integrates sustainability into its operation and decisions. The shipping containers that the panels sit on have been up-cycled, designed, and placed to maximize solar potential. The SunPower Solar Panels were manufactured locally in Hillsboro, Oregon. This is TSS's fourth solar project with Southern Oregon University and its second net-zero project. SOU is offsetting 100% of the electric usage for this part of their campus. We are proud of the program for doing such a great job at helping their campus go greener. To find out more about SOU's sustainability program go to susainability.sou.edu. GO RAIDERS!
energy saver appliance rebate
Another way to save energy is to replace old refrigerators and freezers with a more energy-efficient appliance. The City of Ashland offers a $50 rebate for new refrigerators or freezers with the ENERGY STAR label to qualify. Qualifying appliance lists can be found at www.energystar.gov. Refrigerator or freezer incentive is only for the replacement of units that have been properly decommissioned and recycled by Recology Ashland. To find out more, visit the City of Ashland website.
meet the staff
Hi! I'm Jessica. I am the office coordinator for TSS. I schedule site surveys as well as provide TSS with drone videos/photos, social media content, and misc. tasks. I am actually a licensed Physical Therapist Assistant and worked in the medical field for 20 years before finding my way to TSS. Growing up in Ashland has given me a great appreciation for nature and the environment. I hike and run our trail system, ski on our mountain, and paddleboard on our lake. I want to keep our planet as beautiful and natural as we possibly can. I am excited to be part of the True South Solar team now and continue to do my part to help our environment.
tesla battery
We know that many of you are patiently waiting for the Tesla Batteries to arrive. We were recently notified of a delay in receiving them. This is a worldwide delay, and unfortunately, there is nothing we can do but wait for Tesla to catch up on its orders. They believe that we should start to receive orders by mid-year. Here is the letter we recently received from them. If you have any more questions or concerns regarding your order, please contact Beth Nolan | Project Manager | beth@truesouthsolar.net
Tesla True South Solar Customers,
Over the past few years, there has been unprecedented growth in the solar and energy storage market around the World. This is great news for the planet and for all of us. While we have been continuously increasing production capacity, our order rate has been growing at an even faster pace. Tesla staff have been driving hard to expand production of Powerwall to meet this surge in orders. We are producing more today than at any time in our history and we are working to bring on additional lines to significantly increase capacity over the coming quarters. Until these new lines are installed, demand for product is anticipated to outpace supply. We recognize this may cause delay in product deliveries and impact your installation schedule. We apologize for any inconveniences this may cause. We will work with you and your Certified Installer to ensure we are transparent in communication about our progress and your delivery timeframe. We appreciate your commitment to Tesla and our joint mission to accelerate the World's transition to sustainable energy.
Please let us know if you have any questions, The Tesla Energy Team